Although we'd love for everyone to be able to keep playing with us, we understand that there may come a time when you'd like to delete your account. In this article, we'll outline the steps you'll need to follow to submit an account deletion request, and give you a little bit more information about the process.

Before we get started, if you would like to submit a request to delete an account from the iPhone, please follow the steps in How to delete your game account from iPhone and iPad.

Submitting your request


If you would like to delete your account from an Android device or you are unable to initiate the deletion process from your iOS device, please submit your request via our Web Form.
You will have to send a request via our Privacy Web Form or generic one. By letting us know exactly what you need from the options provided, we're able to get the process started faster.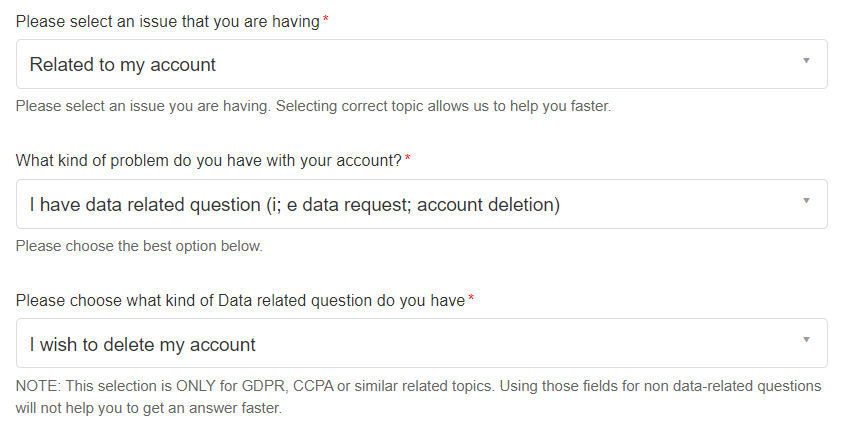 Verifying you as the account owner


For us to be able to continue, you will also have to send us some security details from your account, which will allow us to verify you as the account owner.


Security is very important to us and we have to be absolutely sure you are the owner of your account before we can proceed with any requests. Because of that, please make sure that you keep track of all your important details so that if needed, we're able to easily verify your identity.


The details we require for the deletion procedure are:
Game name:
User ID you have in the game (check this article: How can I find my Unique ID?):
Email address of your account (if applicable):
Nickname:
Your country and state/province:
Approximate date of creation of this account:
The reason for your request to delete your profile:
Screenshot of the in-game profile (check: How to take a screenshot ):
If you made purchases, please send a receipt of your last purchase.
Confirm that you want to delete your personal data (read more about it here: Difference Between Delete and Unlinking of the account)
If your account is connected with Facebook, we also suggest that you send us your Facebook ID. Please read our other article "How to find your Facebook ID" for further instructions.
The account deletion process
The deletion process normally consists of the following steps:
REQUEST: you, the player, send us a request informing that you would like to delete your account and provide the information requested above.
VALIDATION: the support team member cross-checks your information with our internal database. If the data matches, we initiate the deletion process and notify you that the deletion has started.
DELETION: all the records of your account will be deleted.
FINAL NOTIFICATION: once the deletion process has been deleted, we notify you that the process has been finished.
Additional points to remember about the process:
Once the deletion process has started, it is not possible to cancel the request and the account will be deleted.
We try to delete your account as soon as possible but in any case, we will do our best to finalise the deletion within 30 days. We will keep you updated if we need to extend this for any reason.


Extra information to keep in mind


Unless the account you are requesting to delete is an old Miniclip account that is associated with several games (i.e 8 Ball Pool and Soccer Stars), we will delete only the game account that you request us to delete.
Deleting your account will fully erase all records of its existence from our system. It is not possible to recover the account once the deletion process has finished.
Please note that some of our partners may continue to process your data for their own purposes in accordance with their own policies (e.g. if you chose to access our games through Facebook or Google). Please contact them directly if you also wish to delete your records with them.
If you have played our games in your web browser, we also recommend you clear your cookie cache. For further information on our partners and cookies, you can check our Privacy Policy and Cookie Policy.
If your account was connected with Facebook and/or Google, we strongly suggest to delete the login access from your Facebook/Google account. Please read Remove deleted game account links from Facebook, Google or Apple

for further instructions.

This process does not delete the game from your mobile device - you'll need to do that yourself. If you open the game again from your device and start playing, a new game account will be created and if the link from Google or Facebook was not broken from your side, the new account might connect with Facebook or Google.
For a more detailed explanation of what happens with your data and some frequently asked questions, please visit Permanent Deletion of my game account - What does it mean?

We hope that this has simplified the deletion process. If you have further questions, please don't hesitate to get in touch with us. If you'd ever like to start playing again, simply redownload or reopen the game and start fresh!